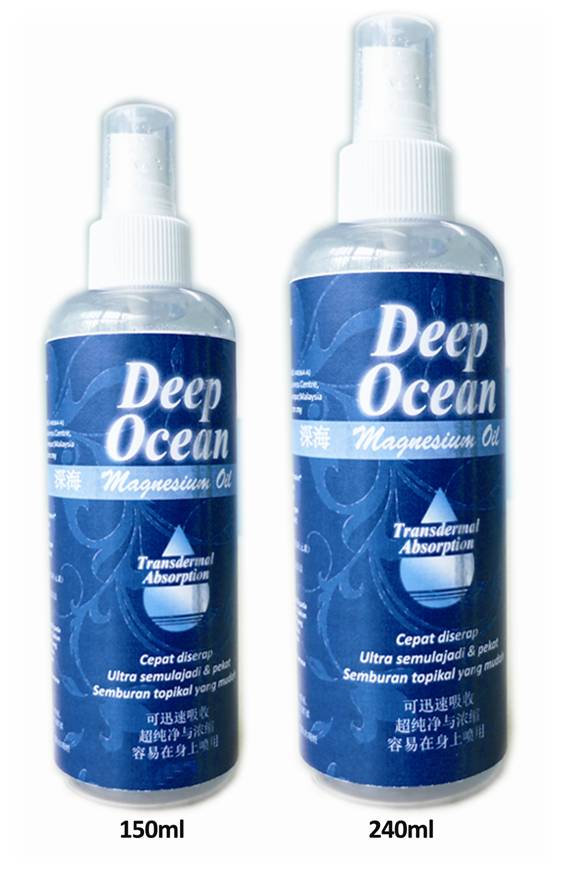 The other day, a friend introduced me Magnesium oil to relief my muscle pain. It was effective.
Let's learn something about medicine today - the
magnesium oil.
Called Magnesium Oil, it is a natural substance that can be applied to the skin or poured into ones' bath like Epsom salts. Magnesium chloride, applied transdermally is the ideal magnesium delivery system with medical benefits unequalled in the entire world of medicine. Yet one does not need a doctor to prescribe or administer it. One can relax in a medicinal bath, without a doctor's prescription or simply put it on the skin and have someone massage you for sublime effect.
Most doctors and patients think of magnesium chloride as a medicine that can be injected while you are having a heart attack and it does save the day for both heart and stroke patients if used quickly enough.
What was found is that magnesium chloride, applied transdermally, is the ideal magnesium delivery system – with health benefits unequalled in the entire world of medicine. Nothing short of a miracle is to be expected with increases in the cellular levels of magnesium if those levels have been depleted. There is no wonder drug that can claim, in the clear, what magnesium chloride can do. Most people will show dramatic improvements in the state of their health when they replete their magnesium levels in an effective manner.
With magnesium oil, the concentrate can simply be applied to the skin or poured into bath water, and in an instant we have a powerful medical treatment. Intensive transdermal and oral magnesium therapy can be safely applied day in and day out for consistent health benefits. Magnesium oil is nothing short of a miracle to a person deficient in magnesium. So clear and observable are the effects that there is no mistake, no mysticism, no false claim made.
Transdermal magnesium therapy offers an exciting breakthrough in sports medicine. Coaches can now treat injuries, prevent them, and increase athletic performance all at the same time. Magnesium Oil enhances recovery from athletic activity or injuries. It reduces pain and inflammation while propagating quicker regeneration of tissues. Topical application of magnesium chloride increases flexibility, which helps avoid injury. It also increases strength and endurance. Transdermal Magnesium Therapy is a boon for athletes, coaches and doctors who practice sports medicine.
In general, for a large adult, spraying an ounce or more of magnesium oil a day all over the body is recommended for six months to recover cellular levels, with that dosage adjusted downward for children depending on their age and size. This coupled with oral intake, especially for adults, is necessary to get the maximum effect out of magnesium. When magnesium levels are at extremely low levels intravenous application is an option and is necessary in emergency situations. Very strong therapeutic magnesium baths yield another level of effect. Such baths compete with intravenous applications but they are no substitute for in emergency situations.
Pain relief and muscle relaxation for people with arthritis and muscle cramping is an important and significant benefit of magnesium oil. Magnesium applied directly to the skin alleviates chronic pain, muscle cramps, and in general makes our job of opening up and softening muscles and connective tissue much easier. Magnesium is a potent vasodilator, and smooth muscle relaxant.
**most facts taken from Dr. Mark Sircus's Blog.
Have a nice day..