A surprise visitor visited my Blog recently - from the AMERICAN SAMOA...
Let's learn something about this country.
American Samoa
is an unincorporated territory
of the United States located in the South Pacific Ocean, southeast of the sovereign state of Samoa (formerly known as Western Samoa). The main (largest and most populous) island is Tutuila, with the
Manu

ʻ

a
Islands,
Rose Atoll
, and
Swains Island
also included in the territory.
American Samoa is part of the
Samoan Islands
chain, located west of the
Cook Islands
, north of
Tonga
, and some 300 miles (500 km) south of
Tokelau
. To the west are the islands of the
Wallis and Futuna
group. The 2010 census showed a total population of 55,519 people.
The total land area is 76.1 square miles (197.1 km
2
), slightly more than Washington D.C. American Samoa is the southernmost territory of the United States.
People born in American Samoa — including those born on
Swains Island
— are American nationals, but are not American citizens unless one of their parents is a U.S. citizen. As U.S. nationals, American Samoans may not vote in U.S. presidential elections.
However, American Samoans are entitled to free and unrestricted entry into the United States.
Samoans are entitled to elect one non-voting delegate to the United States House of Representatives.
Their delegate since 1989 has been
Democrat
Eni Fa'aua'a Hunkin Faleomavaega, Jr.
They also send delegates to the Democratic and Republican National Conventions.
American Samoa, located within the geographical region of Oceania, is one of only two possessions of the United States in the Southern Hemisphere
, the other being
Jarvis Island
. Its total land area is 76.1 square miles (197.1 km
2
) – consisting of five rugged, volcanic islands and two
coral atolls
.
The five volcanic islands are:
Tutuila
,
Aunu'u
,
Ofu
,
Olosega
,
Tau
. The coral atolls are:
Swains
, and
Rose Atoll
. Of the seven islands, Rose Atoll is an uninhabited Marine National Monument.
Due to its positioning in the South Pacific Ocean, it is frequently hit by tropical cyclones between November and April. Rose Atoll is the easternmost point of the territory. American Samoa is the southernmost part of the United States. American Samoa is home to the
National Park of American Samoa
.
According to the World Christian Database, the population of American Samoa is 98.3% Christian, 0.7% agnostic, 0.3% Chinese Universalist, 0.3% Buddhist and 0.3% Baha'i.
Photos: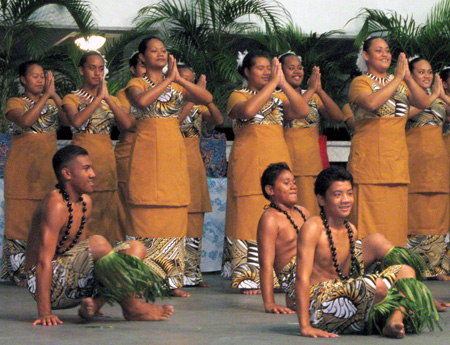 Have a nice day....